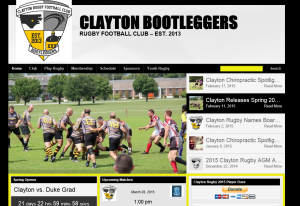 CLAYTON, NC – This afternoon, the Clayton Rugby Football Club launched a new website to go along with the club's continued progress forward. While there was nothing wrong with the previous website, the new site has a cleaner look and more professional feel. To go along with that, the site offers improved functionality and a host of options that wasn't previously available.
The new site comes with new competition management software that will allow the Bootleggers to keep players and fans better informed on upcoming matches, league standings, as well as player profiles and statistics.
"I'm really excited about the launch of the new website," added Club President Ted Hardy. "It was something that had been in the works for quite some time. It is just another small part of what we're doing here at the Clayton RFC to create a great atmosphere for players and fans alike."
"Having a professional looking website also provides our sponsors with an additional platform and opens up more opportunities for the club in the future."
The Bootleggers are currently in the middle of pre-season training and open up their Spring playing season on March 28th against Duke Grads. The Clayton RFC is open to players of all skill and experience levels. To learn more about the Clayton Bootleggers, please email the club at [email protected] or simply come out to a practice session.
During the Spring, the club practices every Saturday morning, 10am at East Clayton Community Park, except on game weeks. On game weeks the club practices on Wednesday nights, same location, at 6pm.
"We have a bunch of exciting developments in the works both on and off the field. It is a very exciting time for rugby in the Clayton area with the explosive growth of our youth program, the Clayton Copperheads, and the rapid growth of the men's team," finished Hardy.