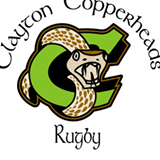 The sport of rugby continues to blossom in the small community of Clayton, NC. After starting with just ten kids a few years ago, the Clayton Copperheads Youth Rugby program is launching the first-ever High School Rugby team in Johnston County. The addition of the High School team now gives the Copperheads a complete sweep of all age groups. Something that not many rugby programs in the entire United States can boast.
This coming season, the Copperheads will have teams in five different age groups. The North Carolina Youth Rugby Union has switched from the traditional "age groups" to classifying teams based on what grade the players are in as a way to align with other school sports. The Copperheads now offer teams at the following grade levels: K-2nd (non-contact), 3rd-4th (contact), 5th-6th (contact), Middle School (7th-8th), and High School.
Clayton Bootlegger and Copperheads Director, Pat Cunningham, is overseeing the operation of the team while Jason Niemiller (also a Bootlegger) is serving as Head Coach of the new team.
As a club team, the High School team is open to all High School players in the area regardless of what High School they attend. The club is pulling the majority of players from Clayton High School and Corinth Holders High School, but all are welcome.
The Copperheads High School team begins practice next week and their opening match is on February 14th, 2015. The squad jumps into the very tough NCYRU Multi-High School Division alongside reigning State Champs Raleigh Rattlesnakes, Charlotte Tigers, Triad Bulldogs, Union County Lions, Chapel Hill Highlanders, and Southern Pines Gators.
The North Raleigh Redhawks are also new to the High School ranks, but are no stranger to the Copperheads as the two clubs have battled it out at the youth level for years.
With the addition of the High School team in Clayton, along with the launch of the Clayton Men's team last year, the area now has rugby opportunities for players of all ages. There are players in the area ages 6 through 50+ actively enjoying and participating in this wonderful sport. Rugby is a sport for life and Clayton is proudly turning our corner of Johnston County into a rugby hotbed.
If you would like to learn more about the Clayton Copperheads High School team, please visit their website. The team is actively recruiting High School Boys in Johnston County to join the team. No experience is necessary and everyone plays. If you know or know of someone who might be interested in playing, please forward them to the team's website or have them email the men's club at clay[email protected] and we will put them in touch with the coaches.